Football Ground Arena Floor Coating
20/09/18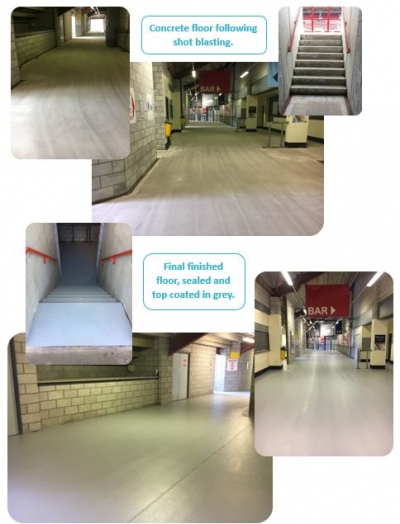 Earlier this year, AquaTec was approached to recommend and supply a suitable floor coating for the walkways and steps within the public areas of a local football ground.
Following a site visit by our Managing Director, Anthony Kershaw, it was agreed the power floated concrete floors would require shot blasting. Majority of the area required medium shot blasting, however the entrance areas and steps needed heavier shot blasting to improve slip resistance. All shot blasting work was completed over 2-3 days by Hera Flooring Ltd.
As the area would be exposed to high levels of foot traffic, we recommended our epoxy floor system which consists of a clear epoxy sealer and coloured topcoat. This system would provide the hard wearing properties required and an attractive final finish. Due to the shot blasting, it was imperative to remove all dust and seal the porous substrate to achieve excellent long term adhesion to the substrate.
For the main walkways, a system of one coat of FloorTec Epox-100 Clear High Solids Epoxy Floor Sealer followed by two coats of FloorTec Epox-100 Epoxy Gloss Floor Paint in light grey was applied.
The stairways to the stands would be subjected to heavier concentrated foot traffic and require higher slip resistance, therefore we recommended our high build epoxy system of one coat of FloorTec Epox-503 Clear High Build Epoxy Floor Sealer followed by one coat of FloorTec Epox-503 Grey High Build Epoxy Floor Paint, a layer of enhanced safety additive and a final coat of the grey topcoat to encapsulate the additive. The paint work was completed by our approved flooring contractor, Capeland Ltd over 3-4 days.
The final result is a durable and attractive gloss finish that will withstand high levels of foot traffic and provide an enhanced safety surface for areas of risk.