Introducing the Woodland Collection Translucent Exterior Joinery Coating System
09/09/19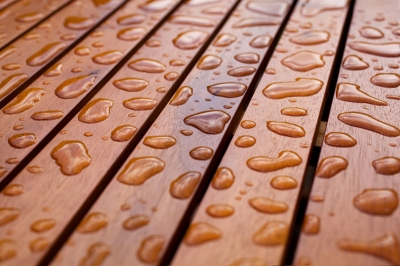 Earlier this year, AquaTec Coatings made its entry into the joinery coating market with a new exterior opaque factory finish system. This system has proved successful within the industry with sales growing rapidly. As such, to complement this opaque range and to meet customer demand, we began developing our own translucent exterior base stain and topcoat system.
Our new Woodland Collection is a high performance exterior translucent joinery coating system which includes BaseTec AC-700 Water Based Base Stain and ShieldTec AC-700 Water Based Translucent Topcoat.
The full system is designed to enhance the appearance of natural timber whilst providing superior protection, high colour retention and UV resistance. The tough and durable finish is flexible and water repellent with no cracking, blistering or flaking*, making this system ideal for exterior use for the finishing and maintenance of windows, doors and conservatory buildings etc.
BaseTec AC-700 Water Based Base Stain delivers excellent adhesion to a variety of timbers and is easy to apply in one coat by dip, brush or spray application and achieves competitive coverage rates.
BaseTec AC-700 is supplied as a matt finish in either a Light Oak, Teak or Walnut shade. The base stain is quick drying and offers a good foundation for top coating with any of our ShieldTec AC-700 translucent topcoat shades.
ShieldTec AC-700 Water Based Translucent Topcoat provides excellent long term durability and a smooth attractive satin or gloss finish. This water based topcoat is recommended for application using air assisted airless spray equipment and is exceptionally quick drying. ShieldTec AC-700 is available in a range of four shades including Oak, Chestnut, Autumn Leaf or Antique Oak.
When combined, our three base stain options and four topcoat colours offer a wide range of eye catching shades. A selection of which are showcased in our Woodland Collection booklets.
We offer a range of training and ongoing technical support to ensure the highest quality finish and performance is achieved.
To compliment this coating system, AquaTec has a range of ancillary joinery products available including a flexible joint sealer and a high performance clear end grain sealer.
For further advice on any of the above products please contact us on 01978 661711 or email sales@aquatecpaint.co.uk.
*Based on appropriate annual maintenance, please seek guidance from AquaTec Coatings.