Spotlight on Spatter!
21/06/19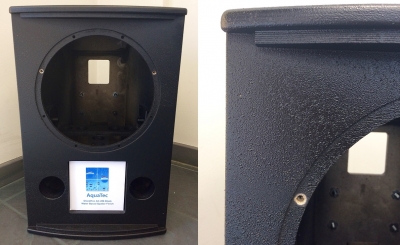 Introducing our latest product, ShieldTec AC-206 Spatter Paint.
Following a customer enquiry for a water based single pack spatter finish to coat speaker boxes and audio equipment, our Research & Development team began work on ShieldTec AC-206.
Our main development objectives for the project were to formulate a coating that would offer excellent adhesion to a wide range of substrates and impart superior chip and scratch resistance with long term durability.
In addition to this, it was essential that the coating could be applied as both a smooth base coat followed by a final textured spatter finish. Both finishes are easily achievable using the same equipment with only a few adjustments to spray pressure. This versatility allows the user to complete a full project with minimal inconvenience and maximises efficient paint usage.
ShieldTec AC-206 is available as an eggshell finish in a range of colours including RAL, BS and Pantone or can be matched to customer specification. It is quick drying, delivers good coverage and UV resistance.
Further uses for this product include coating for flight cases, packing cases, HDF and MDF board.
For further details on ShieldTec AC-206, please contact AquaTec Coatings on 01978 661711 or email sales@aquatecpaint.co.uk.